Improve your game
with Randee Dimond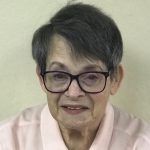 October 11 forward Friday Mornings 9:30 – 11:30 a.m.

Randee's back! Starting on October 11, spend Friday mornings learning to bid with more accuracy and play to take all your tricks. There will be a lesson and the chance to play a stack of selected hands. Say you play a hand in 4 hearts going down two. Do you think it would play better in 3 no trump? Play it again, or consult the hand record. Not just for beginners, this is for everyone who wants to improve their game. This easy going game will build your skills and refresh what you once knew. Come any Friday, with or without a partner, for bridge FUNdamentals.
Table fee $10
Build your confidence




with Kathy Juarez
Wednesday Mornings 9:30 – 11:30 a.m.
Kathy is eager to work with bridge players interested in improving their bridge skills. She'll present a brief lesson and offer coaching to participants while they practice bidding and playing with an emphasis on having fun.  No partner needed–This is the perfect place to meet potential partners and get to know your local bridge community.  Do come and play.
Table fee $10