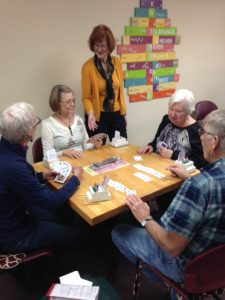 Our instructors bring a relaxed, humorous, and informative style to teaching. All of our classes have had fun and friendly people; come join us to learn this fascinating game or brush up on your current bridge skills. Bridge has the suspense of poker, the mental challenge of chess, and the excitement of athletic sports, all in a sociable setting where you are a participant, not just a spectator.
Join in the fun!
Barbara Seagram, author of 25 Conventions You Should Know & Outstanding Teacher
Saturday, November 23
You play hands the entire lesson.
10:00 a.m. – 12:15 p.m.


Defensive Strategy & Signalling


1:00 p.m. – 3:15 p.m.
Stripping can be Fun


$25 per class  prepaid or $30 at the door
September 24
A Failure  to Communicate
10:00 a.m. – 12:15 p.m.
$25 per class prepaid or $30 at the door.
1:00 p.m. Unit Game with Barbara and Alex playing at our game.

Basics I – Beginner Bridge Class
An introduction to the world's greatest card game; you will learn opening bids, responses, and how to plan to play a hand in no trump and a suit contract. Each class is seven weeks.
Wednesday Evenings starting January 22

           6:30- 8:30  p.m.  with Kathy Venton

Monday Mornings starting January 27

             9:30 – 11:30 a.m. with Jane Bender
First class is free – you can see if this class is a good fit for you before you commit to the entire 7 weeks.

                                 
Schedule for the class: Week 1 – Introduction to Bridge, Week 2 – 1N Openers & Responses,  Week 3 – Major Suit Openers & Responses with a fit, Week 4 – Major Suit Openers & Responses with no fit or game going values, Week 5 – Minor Suit Openers & Responses, and Week 6 – Stayman, Week 7 How to show a 5 card major in response to Opener's 1N. Class is $95 including text. Single sessions  $15.
 If you wish to repeat this class it's only $5 per session
Intermediate Class
Thinking Bridge with Tony Jackson
Tuesday Mornings 9:15 – 11:30 a.m.
on going

Bid and play hands developed by Eddie Kantar which demonstrate multiple lessons including declarer play and defense.  You will play hands and then the lecture will cover the optimal defense and best line of play on each board.
table fee $10  First visit to this class is free.
---
---
---