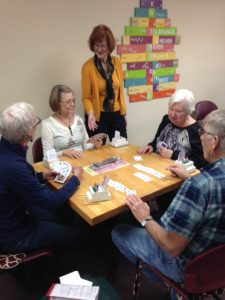 Our instructors bring a relaxed, humorous, and informative style to teaching. All of our classes have had fun and friendly people; come join us to learn this fascinating game or brush up on your current bridge skills. Bridge has the suspense of poker, the mental challenge of chess, and the excitement of athletic sports, all in a sociable setting where you are a participant, not just a spectator.
Join in the fun!
---
Learn Bridge in a Day?®
Have you always wanted to learn to play bridge but never had the time? Would you like to update the bridge you learned in college? Are you curious about this game that your friends love? Learn Bridge in a Day?® is the perfect place to start. This course will be offered by Kathy Juarez at the Santa Rosa Bridge Gallery on Saturday, January 19, 2019, from 11:00 am to 3:30 pm.
Here's what the ACBL says about the LBIAD class: Move quickly along the initial learning curve. Participants should include true beginners, those returning to bridge after long absences and those wanting to "test the waters" before committing to formal classes. The concentrated, 4.5 hour course includes both class instruction and coached play.
---
Bridge Basics I – Beginner Bridge Class
An introduction to the world's greatest card game; you will learn opening bids, responses, and how to plan to play a hand in no trump and a suit contract. Each class is seven weeks.
FIRST CLASS IS FREE. Join if you wish after attending the first class.

 Tuesday Evenings
starting January 29, 2019– 
6:30- 8:30  p.m.  with Kathy Venton 

Thursday Mornings
starting January 31, 2019–
 9:30 – 11:30 a.m. with Kathy Juarez

Schedule for the class: Week 1 – Introduction to Bridge, Week 2 – 1N Openers & Responses,  Week 3 – Major Suit Openers & Responses with a fit, Week 4 – Major Suit Openers & Responses with no fit or game going values, Week 5 – Minor Suit Openers & Responses, and Week 6 – Stayman, Week 7 How to show a 5 card major in response to Opener's 1N. Class is $95 including text. Single sessions  $15.
 If you wish to repeat this class it's only $5 per session
---
All About the Minors
A new Tuesday Morning Series with Kate


starts January 15       9:30 – 11:30 a.m.

Join us in exploring ways to find effective part-scores, games, and even slams in the minors! So many conventions are geared toward the majors, we sometimes forget the tools we can use to find our best spot by using a known minor-suit fit. This 4-week class will give you new insight into how and when to exploit these under-used assets.
Class #1:   January 15   INVERTED MINORS What are the ingredients? Should I or shouldn't I?
Class #2:   January 22   THINKING SLAM in the MINORS Special slam conventions: MINORWOOD – How to recognize it and how to answer. Can we still get out?
January 29:    BREAK
Class #3:   February 5   UNUSUAL TWO NOTRUMP When, how, and why do we use it? How to answer? Should we sacrifice? Can we use it against a 1NT opener?
Class#4:   February 12   IMAGINATIVE WAYS TO USE THE MINORS How to enter the auction as a passed hand? Can we use it after a 2C opener? Against their Jacoby 2NT auction?
$50 for the series or $15 for a single session
Please sign up via email, phone, or at the club
Sylvia Shi teaches you how to improve bidding decisions at the 2 and 3 level and the 4 and 5 level.  When do you bid one more time?
Sunday, February 10
10:30 am – 12:30 p.m.
$20 prepaid, $25 at the door
sign up sheet at the Bridge Gallery
---