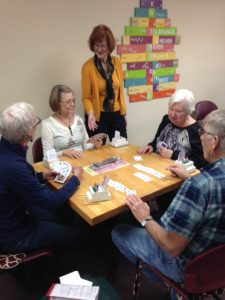 Our instructors bring a relaxed, humorous, and informative style to teaching. All of our classes have had fun and friendly people; come join us to learn this fascinating game or brush up on your current bridge skills. Bridge has the suspense of poker, the mental challenge of chess, and the excitement of athletic sports, all in a sociable setting where you are a participant, not just a spectator.
Join in the fun!
---
Bridge Basics I – Beginner Bridge Class
An introduction to the world's greatest card game; you will learn opening bids, responses, and how to plan to play a hand in no trump and a suit contract. Each class is seven weeks.
Tuesday Evenings starting September 24, 2019– 
6:30- 8:30  p.m.  with Kathy Venton 

Thursday Mornings
starting September 26, 2019–
 9:30 – 11:30 a.m. with Kathy Juarez

Schedule for the class: Week 1 – Introduction to Bridge, Week 2 – 1N Openers & Responses,  Week 3 – Major Suit Openers & Responses with a fit, Week 4 – Major Suit Openers & Responses with no fit or game going values, Week 5 – Minor Suit Openers & Responses, and Week 6 – Stayman, Week 7 How to show a 5 card major in response to Opener's 1N. Class is $95 including text. Single sessions  $15.
 If you wish to repeat this class it's only $5 per session
---
Bridge Basics III  Popular Conventions
Tuesday Evenings, 6:30 – 8:30 p.m.


April 30 – June 4 with Kathy Venton
Learn the nation's most popular conventions designed to help you and partner get to your games and slams.  We'll review Stayman and learn more details.  You'll have a chance to practice and learn more about Jacoby Transfers including transfers to the minor suits. You'll open hands with 22+ points.  You'll learn how to ask for aces and how to invite slam.
Schedule:  wk 1 More about Stayman, wk 2 More about Jacoby Transfers, wk 3  Strong Opening Bids wk 4 Control Showing Cue Bids wk 5 Roman Key Card Blackwood, wk 6 Gerber and Quantitative Bidding
$99 for six weeks including text or $15 for a single session
If you've taken this class before it's $10 to repeat any evening.
Sylvia Shi, multi national champion, teaches you how to improve your opening leads against suit contracts.  Find yourself setting more contracts!

Sunday, May 5
10:30 am – 12:30 p.m.
$20 prepaid, $25 at the door
sign up sheet at the Bridge Gallery
---