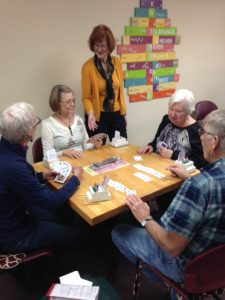 Our instructors bring a relaxed, humorous, and informative style to teaching. All of our classes have had fun and friendly people; come join us to learn this fascinating game or brush up on your current bridge skills. Bridge has the suspense of poker, the mental challenge of chess, and the excitement of athletic sports, all in a sociable setting where you are a participant, not just a spectator.
Join in the fun!
---
Basics I – Beginner Bridge Class
An introduction to the world's greatest card game; you will learn opening bids, responses, and how to plan to play a hand in no trump and a suit contract. Each class is seven weeks.
Tuesday Evenings starting September 24,

6:30- 8:30  p.m.  with Kathy Venton

Monday Mornings starting September 30
                              9:30 – 11:30 a.m. with Jane Bender
First class is free – you can see if this class is a good fit for you before you commit to the entire 7 weeks.

                                 
Schedule for the class: Week 1 – Introduction to Bridge, Week 2 – 1N Openers & Responses,  Week 3 – Major Suit Openers & Responses with a fit, Week 4 – Major Suit Openers & Responses with no fit or game going values, Week 5 – Minor Suit Openers & Responses, and Week 6 – Stayman, Week 7 How to show a 5 card major in response to Opener's 1N. Class is $95 including text. Single sessions  $15.
 If you wish to repeat this class it's only $5 per session
---
Five Steps to Simply the Endplay
 September 10 & 17
             
Tuesday Evenings 6:30 – 8:30 p.m.
Ever wonder which way to finesse when you have:
K T 3
  A J 4 ?
Half the time the Q is on the left and half the time on the right.  If you can get the opponents to lead this suit for you, you will always pick up the Q.  Learn to identify a suit best lead by the opponents.  Eliminate all their other options.  Put them on lead and make them help you.
Class is $35 including text.  $15 single session. taught by Kathy Venton
---
---