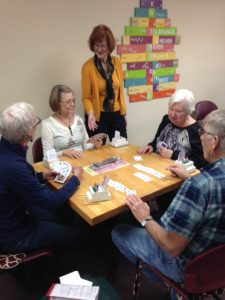 Kathy and Kate bring a relaxed, humorous, and informative style to teaching. All of our classes have had fun and friendly people; come join us to learn this fascinating game or brush up on your current bridge skills. Bridge has the suspense of poker, the mental challenge of chess, and the excitement of athletic sports, all in a sociable setting where you are a participant, not just a spectator. Join in the fun
Bridge Basics I – Beginner Bridge Class
An introduction to the world's greatest card game; you will learn opening bids, responses, and how to plan to play a hand in no trump and a suit contract.  Perfect review of the basics for those who played years ago. Graduates of the recent Learn Bridge in a Day will receive a free book.  Each class is seven weeks.
Next Beginning Bridge Class will be in September.
First class is free.  Join if you wish after attending the first class.
Tuesday Evenings starting September 25
6:30 – 8:30 p.m. with Kathy Venton
Thursday Mornings starting September 27
9:30 – 11:30 a.m. with Tony Jackson

Schedule for the class: Week 1 – Introduction to Bridge, Week 2 – 1N Openers & Responses,  Week 3 – Major Suit Openers & Responses with a fit, Week 4 – Major Suit Openers & Responses with no fit or game going values, Week 5 – Minor Suit Openers & Responses, and Week 6 – Stayman, Week 7 How to show a 5 card major in response to Opener's 1N. Class is $95 including text. Single sessions  $15.

 If you wish to repeat this class it's only $5 per session
Play of the Hand
Once the dummy comes down it's up to you, the Declarer to make the best of it. Learn to make a plan, develop tricks, watch for entries, Avoid the dangerous opponent, choose among techniques, and combine your chances. Schedule: 7/24 , Developing tricks, 7/31, More about Finessing, 8/7 Eliminating Losers, 8/14 Entries, 8/21 Dangerous Opponents, 8/28 Managing your Trump & Combining your Chances
July 24 – August 28
Tuesday Evenings 6:30 – 8:30 p.m.
Kathy $99 including text $15 single session
If you have taken the class before you may repeat any session for $10.
Please sign up 591-5015
Bridgegalleryca@gmail.com
Bridge Basics III
Popular Conventions
Our intermediate summer bridge series will bring you all the most popular and helpful conventions for finding games and slams.  This class is for you if you want to brush up on how to find the right game after partner opens in No Trump.  When to Transfer?  When to use Stayman? 
We'll spend even more time on how to bid the good slams (and stay out of the bad ones).  Gerber, Roman Keycard Blackwood, Quantitative bids — they're all here! And we'll have a lesson on New Minor Forcing — another nifty device for finding our major suit games. 
schedule:  6/7 Stayman, 6/14 Jacoby Transfers, 6/28 Splinters; Jacoby 2NT – Conventions that help us find slams 7/5 Roman Keycard Blackwood, 7/12 Cue bidding our way to Slams, and 7/19 New Minor Forcing 
Cost $100 for the entire series, includes text: Popular Conventions by Audrey Grant.  Drop-ins are welcome ($15 per session or $10 for previous attendees).  The lessons are stand-alone – you don't need to come to the previous lesson to benefit from the next one.  No partner necessary.