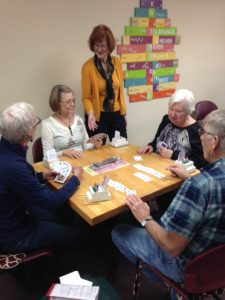 Kathy and Kate bring a relaxed, humorous, and informative style to teaching. All of our classes have had fun and friendly people; come join us to learn this fascinating game or brush up on your current bridge skills. Bridge has the suspense of poker, the mental challenge of chess, and the excitement of athletic sports, all in a sociable setting where you are a participant, not just a spectator. Join in the fun
Bridge Basics I – Beginner Bridge Class
An introduction to the world's greatest card game; you will learn opening bids, responses, and how to plan to play a hand in no trump and a suit contract.    Each class is seven weeks.
Next Beginning Bridge Class will be in January.
First class is free.  Join if you wish after attending the first class.
Tuesday Evenings starting September 25
6:30 – 8:30 p.m. with Kathy Venton
Thursday Mornings starting September 27
9:30 – 11:30 a.m. with Tony Jackson

Schedule for the class: Week 1 – Introduction to Bridge, Week 2 – 1N Openers & Responses,  Week 3 – Major Suit Openers & Responses with a fit, Week 4 – Major Suit Openers & Responses with no fit or game going values, Week 5 – Minor Suit Openers & Responses, and Week 6 – Stayman, Week 7 How to show a 5 card major in response to Opener's 1N. Class is $95 including text. Single sessions  $15.

 If you wish to repeat this class it's only $5 per session
What to do…..
When you Haven't Got a Cue!!!
What's a Cue Bid?  How do we use them?  How many different kinds are there?  Must I alert them?  How do I know which is which?
                      October 23 – November 20
              Tuesday Mornings 9:30 – 11:30 a.m.
October 23 – Cue Bid Raises after partner opens in a major
October 30 – Cue Bids after partner opens is a minor or overcalls
November 6 – Michaels Cue Bids
November 13 – Cue Bidding on our way to slam
November 20 – Cue Bids that SHOW stoppers: and those that DENY them: 'Western' and 'Invisible' Cue bids: Doubling a Cue bid
Lessons are stand alone.  Come to one or more, with or without a partner.
Entire Series $55 in advance, or $15 per class.  Class size is limited to 32.  Please sign up or email bridgegalleryca@gmail.com