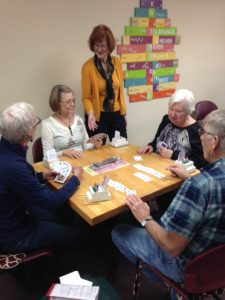 Kathy and Kate bring a relaxed, humorous, and informative style to teaching. All of our classes have had fun and friendly people; come join us to learn this fascinating game or brush up on your current bridge skills. Bridge has the suspense of poker, the mental challenge of chess, and the excitement of athletic sports, all in a sociable setting where you are a participant, not just a spectator. Join in the fun
Bridge Basics I – Beginner Bridge Class
An introduction to the world's greatest card game; you will learn opening bids, responses, and how to plan to play a hand in no trump and a suit contract.  Perfect review of the basics for those who played years ago. Graduates of the recent Learn Bridge in a Day will receive a free book.  Each class is seven weeks.
Next Beginning Bridge Class will be in September.
First class is free.  Join if you wish after attending the first class.
Tuesday Mornings starting May 29
9:30 – 11:30 a.m. with Kate Hill
Tuesday Evenings starting May 29
6:30 – 8:30 p.m. with Kathy Venton
Schedule for the class: Week 1 – Introduction to Bridge, Week 2 – 1N Openers & Responses, Week 3 – Jacoby Transfers, Week 4 – Major Suit Openers & Responses with a fit, Week 5 – Major Suit Openers & Responses with no fit or game going values, Week 6 – Minor Suit Openers & Responses, and Week 7 – Stayman. Class is $95 including text. Single sessions  $15.

 If you wish to repeat this class it's only $5 per session.
BRIDGE BASICS II – COMPETITIVE BIDDING
As usual, we want to get to our best contract, but we also want to make it as difficult as possible for the opponent's to get to their best spot.  You'll learn preemptive bidding, overcalls, take out doubles, and negative doubles.  You'll learn how to advance your partner's bid to optimize your sides chance of earning the best score.
Thursday Mornings starting April 5
9:30 – 11:30 a.m. with Kate Hill
Schedule for the class:  Week 1 – Preempts  Week 2 – Overcalls Week 3 – Take Out Doubles Week 4 – Double and Bid Hands Week 5 – Negative Doubles Week 6 – Penalty Doubles, Redoubles
$95 including text.  Single session $15
If you wish to repeat this class it's only $10 per session
2/1 The Craze That's Sweeping the Nation!
If you've been wondering whether you're ready for the bidding system played by the 'Big Kids', let us break it down for you! It's not entirely new, but it has some 'twizzles' you will need to understand.
Even if you decided to stick with Standard American, this class will give a much deeper understanding of your OWN system, as well as the being played by many of your toughest opponents. You can decide whether to adopt it or not!
In this seven week class, we will cover the good, the bad, and the wonderful about the system known 2/1. Is it the Holy Grail? Only you can decide. Even if you don't play it you'll know what your opponent's are up to.
Kate will guide you through the maze and demystify some of the buzz word: What is a Forcing NT? A Forcing Pass? What are some of the EXCEPTIONS to 2/1.
Seven Tuesday Mornings 9:30 – 11:30 a.m.
starting April 10 – May 22 with Kate Hill
$125 including text by Larry Cohen
$10 for drop-in repeaters
Bridge Basics III

Popular Conventions
More about Stayman and Jacoby Transfers. Strong opening bids, slam bidding, Roman Key Card Blackwood, Cue Bidding Controls,
and Gerber.
Six Tuesday evenings starting April 17 with Kathy
Schedule:
May 1, Strong Opening bids/ May 8 Control Showing Cue Bids/ May 15 Roman Key Card Gerber/ May 22 Gerber & Quantitative Slam Tries
$95 including book $15 single session. If you've taken this class before it's $10 per session.