Absolute Beginner Bridge

Are you interested in learning to play bridge?

 An Absolute Beginner Bridge class will be starting after the new year. Kathy Juarez will be teaching an online class on Monday evenings from 6:00 PM to 8:00 PM, beginning January 4, 2021. Lessons will be presented on Zoom, with students playing supervised practice hands on BBO or SharkBridge, depending on how many people sign up (maximum-12).

Cost: $80 for eight weeks of lessons, plus $15 for the textbook (Bridge Basics 1, by Audrey Grant) if students want it mailed to them.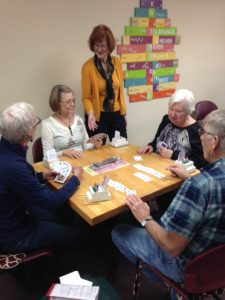 Face to face classes are on hold while we are closed due to the Coronavirus.
Our instructors bring a relaxed, humorous, and informative style to teaching. All of our classes have had fun and friendly people; come join us to learn this fascinating game or brush up on your current bridge skills. Bridge has the suspense of poker, the mental challenge of chess, and the excitement of athletic sports, all in a sociable setting where you are a participant, not just a spectator.
Join in the fun!
Learn Bridge in a Day?®
Want to keep your brain sharp? Playing bridge is like mental exercise. With each hand of this card game, you're strengthening your memory and strategy power. Bridge is the ultimate mindsport.
Looking to meet new people? The bridge-playing community is large and wide-spread. You'll find a bridge club in almost every city. Santa Rosa and Petaluma both have thriving clubs here in Sonoma County.  Also, because bridge is a partnership game, you develop personal connections right away.
Seeking a new hobby? Whether you are looking for competition or something more relaxed, bridge is a great option for you. Learn the ultimate card game and discover your new passion.
LEARN BRIDGE IN A DAY?® is a five-hour concentrated course geared towards true beginners, those returning to bridge after long absences, and those wanting to "test the waters." The course includes both class instruction and coached play.
Come with a friend–or make new ones! See why bridge is the world's most popular card game.This course is being offered by Kathy Juarez at the Santa Rosa Bridge Gallery on Saturday, September 19, 2020
 

Bridge Basics II Competitive Bidding
This class covers concepts when both sides are bidding for the contract.   We want to get to our best contract or prevent the opponent's from getting to their top spot.

 

Wednesday Evenings, Dates tba  6:30 – 8:30 p.m. with Kathy Juarez
Monday Mornings, Dates tba
9:30 – 11:30 a.m. with Jane Bender

Bid and play more hands by winning the contract more often by competing for the auction.  You'll learn how to bid preemptively, overcall, and use takeout doubles.  Tips for when to bid one more time and when to let the opponents play the hand. 

Schedule: wk 1, Preempts/2N asking for a feature  wk 2 Overcalls & Advancing, wk 3 Take Out Doubles & Advancing/Double & Bid Hands wk 4 Negative Doubles, wk 5 Competitive Auctions/Cue Bids  Wk 6 Redoubles/Review of Book

$99 for six weeks including textbook   $84 without text book $15 single session

If you've taken this class before it's $10 per session to repeat any evening.

Please email or call to reserve a spot.

Intermediate Class
Thinking Bridge with Tony Jackson
Tuesday Mornings 9:15 – 11:30 a.m.
on break until the virus is under control

Bid and play hands developed by Eddie Kantar which demonstrate multiple lessons including declarer play and defense.  You will play hands and then the lecture will cover the optimal defense and best line of play on each board.
table fee $10  First visit to this class is free.
---
---
---