Can you LEARN BRIDGE IN A DAY?® Yes!
Do you have friends who always wanted to learn to play bridge but never had the time? Who would like to update the bridge they learned in college? Who are curious about this game that you love? Learn Bridge in a Day® is the perfect place to start. This course is being offered by Kathy Juarez at the Santa Rosa Bridge Gallery on Saturday, April 21, from 12:30 to 5:00 p.m. Cost: $40 (includes workbook and snacks).
Here's what the ACBL says about the LBIAD® class:
Move quickly along the initial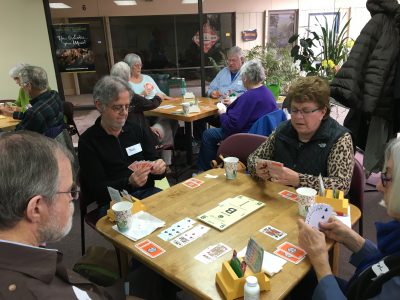 learning curve. Participants should include true beginners, those returning to bridge after long absences and those wanting to "test the waters" before committing to formal classes. The concentrated course includes both class instruction and coached play.
See a short video about Learn Bridge in a Day®.
Need more information or want to volunteer as a table helper? Email Kathy Juarez  or call Kathy Venton at the Bridge Gallery: 707.591.5015